---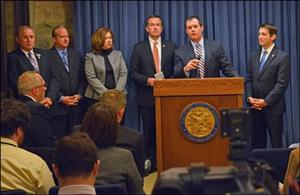 IASA Executive Director Dr. Brent Clark speaking at the Thursday, February 12 Vision 20/20 evidence-based school funding model press conference in the Blue Room of the State Capitol. Joining Dr.Clark, from left, Roger Eddy, executive director the Illinois Association of School Boards; Jeff Vose, Sangamon County regional superintendent; Jolene lowder, executive director of the Illinois PTA; Senator Andy Manar (D-Bunker Hill); and Senator Jason Barickman (R-Bloomington).
Barickman, Manar announce Vision 20/20 evidence-based education funding reform
Springfield - State Senator Jason Barickman (R-Bloomington) and the Vision 20/20 coalition have announced new legislation to reform the broken system used to fund schools in Illinois. The legislation ties school funding to actual educational outcomes and true district costs. State Senator Andy Manar (D-Bunker Hill) joined the effort, lending his support to advance the education funding reform discussion, and will co-sponsor the legislation.
Click here to read the full announcement.
---
18th Annual Southern Illinois Educational Leadership Conference
Date: March 25, 2015 at the SIU Carbondale Student Center
Vision 20/20: Promoting Student Focused Leadership
Keynote Speaker: Randy Dunn, President, Southern Illinois University.
Join us as we continue to strengthen the southern Illinois leadership network and school partnerships!
Visit
www.continuinged.siu.edu
for program updates or to register online!